Total Dark Spot Diminisher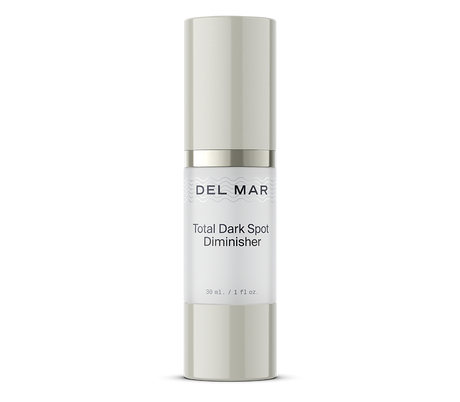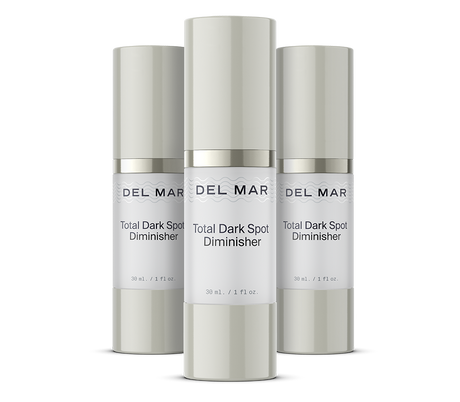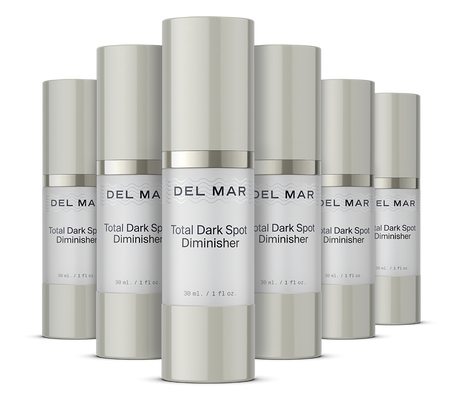 "I finally have my REAL skin back, thank you so much for this!"
— Haley, Verified Customer
---
---
Don't let dark spots get you down! Daily use of our Total Dark Spot Diminisher helps…
Smooth out the look of dark age spots
Add dollops of health, skin-brightening moisture
Bring out your brightest, clearest complexion
100% No BS, 90-Day Guarantee
Subscribers save 10% on every bottle
Free shipping on every order!
Dark Spots and Dull Skin, Be Gone!
Total Dark Spot Diminisher diminishes the dark spots on your skin, and disrupts future dark spots from forming. With our proprietary "cluster buster" technology, this quick-absorbing formula can help you enjoy your brightest, clearest skin in years… starting in just two weeks!
The Problem with Pockets of Melanin
Did you know that dark spots can add up to 11 years to your visual age? They stand out, and not in a good way… drawing the eye to them like a target on a bullseye.
Our skin cells get damaged with the passing of years and decades - damaged caused by everything from dermal collapse, to collagen decay, to UV exposure - and sometimes, those damaged skin cells cause little "pockets" to form.
That's where you'll find dark spots. These pockets collect clusters of melanin - that's the pigment your body produces when it's exposed to the sunshine. And these clusters just get bigger and dark with time… so there's no time like the present to start reversing this troublesome trend.
How To Bust Those Clusters For Good
Use Total Dark Spot Diminisher every day, and see our "cluster buster" technology working in as little as two weeks!
Licorice Extract: Helps "turn off the tap" on excess melanin, by shutting down it's precursor, l-tyrosine.2 Even better, licorice extract can help disperse and remove extra melanin in the skin3, for an even faster result.
Trans-Resveretrol: this "anti-synolytic" can increase cellular turnover: the rate at which dead cells, become new cells. That's a crucial part of busting up the clusters of melanin, and it's why one study showed that a 2% emulsion led to improved elasticity and density… while decreasing roughness and redness.4
Azeliac Acide: It's a gentle exfoliator, and it's even been shown to help soothe and calm the skin, after dark spots have been diminished.5 In a landmark study with 329 female patients, Azelaic acid proved to be extremely effective at lightening the skin complexion6: every time you apply it, it's like dropping a little "cleanup crew" into your clusters.
Hyaluronic Acid: Recall that clusters of melanin form where your skin is weak and damaged. So as we think about healthy, strong skin, we have to be thinking about moisture. Moisture helps support your extracellular matrix - the layer of proteins and fats that keeps your skin strong, tight and firm. And since every little particle of hyaluronic acid can absorb up to 1000 times its own weight in water, it's a crucial part of keeping these clusters from re-forming.
Tetrahexyldecyl Ascorbate: This potent form of Vitamin C is crucial for smoothing and repair the complexion. It rapidly increases collagen synthesis, it helps smooth fine lines and wrinkles, it lightens age spots, and it even helps to reverse the effects of sun damage.7
How Much To Use & When To Use It
Use Total Dark Spot Diminisher twice a day, morning and night, for best results. Spread it anywhere you see dark age spots, to help smooth and brighten the look of this dark melanin across your skin. We recommend it as a base layer, below other topicals, and we also strongly recommend a strong, zinc oxide-based sunscreen if you are planning to spend time outdoors.
1. Plast Reconstr Surg. 2009;123(4):1321–1331
2. Sarkar R, Arora P, Garg KV. Cosmeceuticals for hyperpigmentation: what is available? J Cutan Aesthet Surg. 2013;6(1):4-11. doi:10.4103/0974-2077.110089
3. Draelos Z. Skin lightening preparations and the hydroquinone controversy. Dermatol. Ther. 2007;20:308–313
4. Brinke, A. , Janssens-Böcker, C. and Kerscher, M. (2021) Skin Anti-Aging Benefits of a 2% Resveratrol Emulsion. Journal of Cosmetics, Dermatological Sciences and Applications, 11, 155-168. doi: 10.4236/jcdsa.2021.112015.
5. Verallo-Rowell VM, Verallo V, Graupe K, Lopez-Villafuerte L,Garcia-Lopez M. Double-blind comparison of azelaic acid andhydroquinone in the treatment of melasma. Acta DermatoVenereologica,Suppl. 143: 58-61 , 1989
6. Baliiia LM, Borelli SS, Di Paola A. 20% azelaic acid cream in thetreatment of melasma: a double-blind controlled comparisonwith 4% hydroquinone cream. International Journal of Dermatology,in press, 1991
7. Juliet M. Pullar, Anitra C. Carr, and Margreet C. M. Vissers - The Roles of Vitamin C in Skin Health - 2017 Aug 12. doi: 10.3390/nu9080866
The Del Mar Laboratories 90-Day Guarantee
Try Total Dark Spot Diminisher for a month. Or save by subscribing, or ordering 3-month or 6-month packages. No matter what you choose, you're protected by our no-hassle, guarantee: love what Total Dark Spot Diminisher does for your skin, or your money back.
100% No BS, 90-Day Guarantee
Subscribers save 10% on every bottle
Free shipping on every order!