ElastiFirm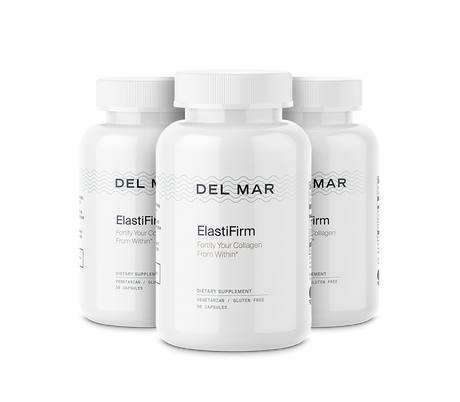 ---
---
Revive your skin's elasticity and youthfulness from the inside-out:
Support Skin-Firming Elastin: Up To 98%
Improve Skin Radiance: Up To 18.5%
Reduce The Appearance Of Sun Damage: Up To 40%
Nourish Your Skin With Nature-Inspired Skin Superfoods
100% No BS, 90-Day Guarantee
Subscribers save 10% on every bottle
Free shipping on every order!
"I'm amazed at the difference after just 2 months. My skin looks refreshed, nourished, and I even have more energy!" — Jenny G.
* individual results will vary.
1-Year Money-Back Purchase Protection
Tighten Sagging Skin From The Inside, Out
Sagging wrinkles are a dead giveaway that our age is catching up to us.
And all the collagen in the world won't do a thing to fix those droopy eye bags, marionette lines, and jowls.
For those problem spots, we need to focus on another crucial skin protein.
And now, with modern extraction technology, the skincare secrets of our ancient ancestors are here to lift and tighten like nothing else.
To smooth-out your arms, belly, thighs, and everywhere else…
And brighten up your life in more ways than one…
Not only giving you a radiant, girlish complexion…
But you'll get a good chuckle when others marvel at your appearance.
"You and your daughter look like sisters!"
"You are GLOWING, dear!"
All because you discovered an easy way to support the hidden protein that keeps women young.
"I was a little skeptical that taking this every day could help restore some of that bounce to my skin. But I'm glad I tried it! I've seen the biggest difference in my marionette lines. It's like the skin fairy erased them while I was sleeping!" — Beth A.
* individual results will vary.
The Root Cause Of Droopy Skin And Pronounced Facial Lines
While everyone is talking about collagen…
There's another protein that's even more important for tight, bright skin.
It's called elastin.
If you think of your skin cells like tiny trampolines…
The frame of the trampoline is made of collagen…
But the bouncy mat of the trampoline is made of elastin.
Elastin gives your skin its elasticity and "bounce"…
But when your elastin starts to degrade…
You get saggy jowls, droopy eye bags…
And gravity's pull on your body becomes more noticeable…
On your neck, arms, thighs, and even your knees. So…
For many women, "elastin decay" makes them look older than they feel.
The good news is…
There's a simple way to reverse the look of elastin loss…
And when you do…
Everything about your skin appearance changes…
As it begins to tighten and brighten every square inch of your body!
"After 60 days I looked in the mirror and was just like WOW. I'm 56 but feel like I'm 36!" — Rachel J.
* individual results will vary.
How To Restore Elastin At Any Age
Thanks to the latest in anti-aging research…
Restoring the bouncy mat in your skin cells is super simple.
You can do it from home in just seconds.
You see, long before harsh chemicals and lab-cooked creams…
Our ancestors relied on skin superfoods to keep their appearance young.
There's no better example of this than in Mediterranean communities - Italy, Greece, and Spain, where women never seem to age, despite the sun exposure!
And new research shows why: their diets are rich in foods that support healthy elastin…
But there's no need to stock your fridge or restrict your diet, for brighter, tighter, springier skin…
Because we've extracted potent servings of these exact skin superfoods, into a tiny little capsule…
That you can take once per day to support your skin-firming elastin, too!
"I love the ingredients on the label. My girlfriends have asked about my skincare routine lately (they've noticed something's different). And when I tell them I'm nourishing my skin with ingredients from oranges, grapeseed, and others, they instantly perk-up and want to know more - and I feel good about recommending this to them." — Sandra R.
* individual results will vary.
ElastiFirm: Tighter, Brighter, Firmer-Looking Skin From Head To Toe
ElastiFirm is the first product specifically designed to combat elastin loss, using pure and potent plant and fruit extracts to keep your skin snappy, tight, and bright…
…with just one tiny daily capsule.
Here's what you'll find in every serving of ElastiFirm:
* RedOrange Complex
Flood your skin with antioxidants from three types of Sicilian blood oranges, grown in the mineral-rich foothills of Italy's most active volcano, in one potent concentration for ultimate elastin support.
In a clinical study, RedOrange Complex helped reduce the appearance of sun damage by an incredible 40% in just 15 days.
After 2 months, it helped improve skin radiance by 18.5%, reduce the appearance of wrinkles by 6.9%, and increase skin moisture by 12.3%.
* Grapeseed Extract
Ancient fossil records show Egyptian women loved applying grapeseed oil to soothe their sun-basked skin. And now…
Science has discovered a way to take this anti-aging effect and make it even stronger… creating what may be the most exciting skincare innovation of our time - grapeseed extract.
Grapeseed extract is rich in skin protecting antioxidants called ProanthoCyanidin Oligomers (PCOs)...
Which help virtually pause skin damage in the face of aging, lax eating habits, stress, and UV light exposure.
PCOs have also been shown to support elastin strength and fortify collagen… so you can enjoy stronger, firmer, springier skin - and whole body "youth".
* DermaVal
A patented cocktail of elastin-boosting compounds derived from whole food sources like acai, mangosteen, arabica cherries, and broccoli - that's been shown in a clinical study to support elastin by 98% in just 2 hours.
It's a simple and exciting way to combat elastin loss and give your skin the appearance of being reborn.
Take ElastiFirm in the morning, noon, or night with water - and make it your daily elastin support ritual for a supple, radiant glow that everyone notices.
1-Year Money-Back Purchase Protection
"This has become a daily ritual for me. I take it in the morning and it's an amazing feeling knowing my skin is getting what it needs. My face is more smooth and defined. And I've even noticed a difference on my arms and thighs. Try it!" — Minnie L.
* individual results will vary.
How We Protect Our Customers
When you place an order directly from Del Mar Laboratories, you're in good hands.
Whether you buy one bottle, six or twelve, every order comes with one year of purchase protection. If you don't feel the difference, just return your empty bottles for a full refund of your purchase price.
And yes - we make it easy, and hassle-free. We have a 24/7 Customer Happiness department, with 100% native-english speakers. You can connect with them on a phone call, over email, or through live chat.
All orders are sent encrypted, and credit card numbers are always stored encrypted - using the same level of encryption as companies like Apple and Amazon.
We're here to be your partner in health, for years to come.
1-Year Money-Back Purchase Protection
"My skin feels like it's sprung back to life like flowers in springtime. I'm surprised by how quickly I went from feeling like my skin was on the dull-side to being completely rejuvenated. It's so simple too. By far the most convenient part of my skincare routine." — Georgia B.
* individual results will vary.
Dr. Chasan, on ElastiFirm:
All Del Mar Laboratories formulas are carefully designed by Dr. Paul Chasan, to ensure clinical dosing, of the best ingredients, with superior bioavailability. You can get all of the skin-firming, brightening benefits of ElastiFirm in just one little capsule a day. No more big scoops of powder, no more mixing, and no more wondering how many heavy metals are sneaking into your supplement! Feel free to double, or even triple your ElastiFirm servings for even more incredible results.
- Dr. Paul Chasan
What do customers
think of ElastiFirm?
Every individual is unique. As such, your results can and will vary. These statements have not been evaluated by the Food and Drug Administration. This product is not intended to diagnose, treat, cure or prevent any disease or illness.
Frequently Asked Questions
What is ElastiFirm and what does it do?
ElastiFirm is a daily skincare supplement, with ingredients clinically proven to help reduce the appearance of dull, sagging, skin everywhere on the body.
It combines potent concentrations of mediterranean plant and fruit extracts, to help reverse signs of elastin loss - helping to tighten and brighten the look of your skin, and minimize the look of sagging.
You can expect to notice a difference everywhere - your face, neck, upper chest, arms and legs.
Who is this designed for?
Many women will get great results with ElastiFirm.
Women as young as their thirties are using it for preventative care, to keep their skin as healthy as possible.
Women in their forties and older, with moderate to advanced stages of elastin loss can see dramatic changes as well.
What is elastin loss?
It's a natural decline in the most important protein for springy, youthful skin - elastin.
Elastin is your skin's "bounce-back" protein, so when you start to lose it, your skin gets saggy and dull. Elastin loss can manifest in a drooping face, sagging jowls, and rough looking skin on the upper chest, arms, and legs.
Smoking, drinking, sun exposure, and inflammation from diet can all accelerate elastin loss. It's important to combat it as best you can if you'd like smooth, springy skin.
How do I use ElastiFirm?
Using ElastiFirm couldn't be easier - it's just one easy-to-swallow capsule, once a day.
Some women take it at night, before they go to bed, while others take it first thing in the morning.
Each small bottle contains a month's supply, and it fits easily into a medicine cabinet, drawer, or purse for travel.
Some women like to take two capsules per day for even more dramatic results, and that's perfectly ok.
Will this irritate my skin?
Every compound in ElastiFirm has been shown to be safe and effective on the skin. Thousands of women are now using this formula without irritation.
Is ElastiFirm suitable for vegetarians and vegans?
Yes! It's 100% vegan, and cruelty-free.
How quickly will I receive my order?
Most orders in the continental US arrive in 2-3 business days, after the order is placed, via USPS first class mail. There are occasional USPS delays, especially around holidays - those are out of our control, but we will always notify you during these times..
How does the refund policy work?
Simply give us a call at 1-888-361-8645 or email us at mail@delmarlaboratories.com for return instructions. You'll work with a courteous Customer Happiness team member, and there will be no hassle or stress in requesting a refund. You can also use our self-service portal if you don't feel like talking to anyone. Once we have received your completed return form with your valid return tracking number, we will issue your refund. If you do not reply, we will refund once our warehouse has recorded your return. Please note, the warehouse can take up to 2 weeks for this process.
The Del Mar Laboratories 90-Day Guarantee
Try ElastiFirm for a month. Or save by subscribing, or ordering 3-month or 6-month packages. No matter what you choose, you're protected by our no-hassle, guarantee: love what ElastiFirm does for your skin, or your money back.
100% No BS, 90-Day Guarantee
Subscribers save 10% on every bottle
Free shipping on every order!