HydraGlo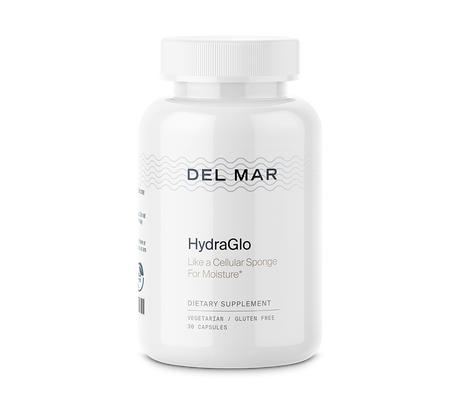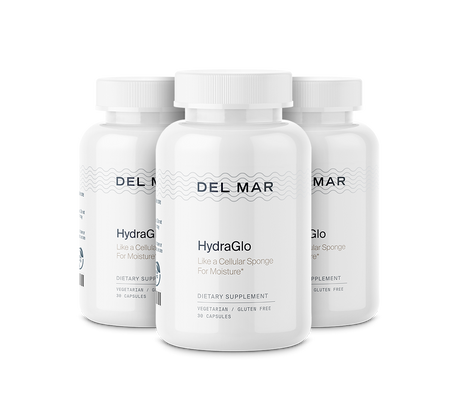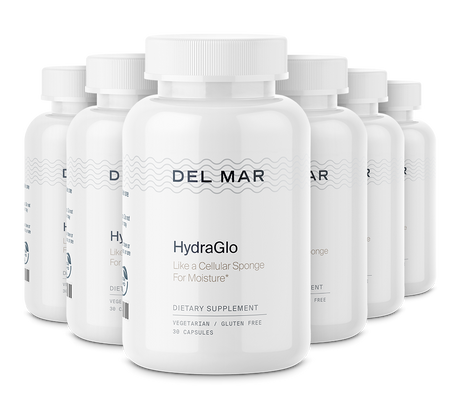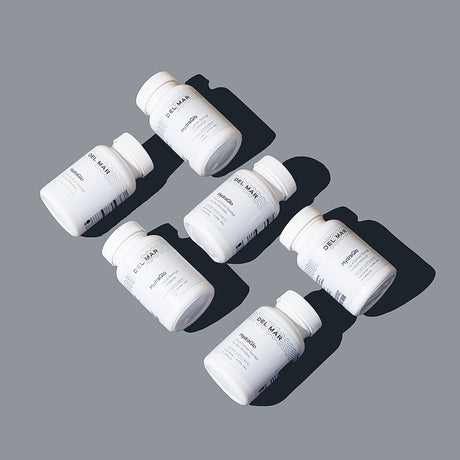 "My Skin Is Noticeably More Moist – Even When I Touch It!"
— Klarissa, Verified HydraGlo Customer
---
---
Replenish your skin's cellular sponge for moisture and watch it plump.
Clinically Proven Absorption
One Capsule Per Day
Plump and Lift The Skin From Within
100% No BS, 90-Day Guarantee
Subscribers save 10% on every bottle
Free shipping on every order!
"This Is Like A Cellular Sponge For Moisture"
Over the age of 40? If so, it's likely that your skin is craving a cool drink of water.
As you age, your body starts to turn off the tap on the one thing that keeps your skin hydrated, firm and supple.
As a result, skin starts to flake, moisture evaporates, nasty 'age spots' spring up everywhere and before you know it, your complexion is drier than the Sahara desert.
The Root Cause of Drying Skin
Your dermis - the bottom layer of your skin - consists of collagen, elastin and a 'gooey' molecule called hyaluronic acid (HA).
Hyaluronic Acid is like a "sponge" for moisture… and not just in your skin, but in your joints, too!
In fact, one tiny molecule of hyaluronic acid holds up to 1000 times its own weight in water!
That's what gives our skin that supple, youthful look.
Unfortunately, your body's natural production of HA grinds to a halt as you age.1
So when you look in the mirror and see dull, lifeless, tired skin… if wrinkles are forming and turning into deep crevices… it's very likely your internal HA supplies have run dry.
Unfortunately, aging is only one reason that HA levels decline. It's also damaged by constant attacks by free radicals - those out of control molecules that RUST your skin from within...
…accelerating your dermal collapse and resulting in thin, wrinkled, sagging skin.
What's more, hyaluronic acid acts as a lubricant between joints, so don't be surprised if you begin to feel stiff and creaky as your body's reserves dry up.
So what's the answer? How can you regain that lost moisture in our skin (and joints)?
You Can Feed, Replenish And 'Top Up' Your Body's Levels Of Hyaluronic Acid...
But not with topicals.
The fact is, most HA topicals are not formulated to penetrate your skin's top layers.
So they can't get deep into the dermis where they can lift and plump your skin with cellular buckets of moisture.
Instead, they sit on top of your skin, giving the short-term appearance of smooth skin.
That's why you need to replenish your hyaluronic acid from within, the same way your body used to in its youth.
HydraGlo: Like A Cellular Sponge For Moisture
Flood your body with the HA it craves, replenishing, restoring and rejuvenating your skin.
From the depths of the dermis up to the surface of the epidermis, HydraGlo helps your skin soak up moisture from your environment. With each little molecule holding 1000 times its own weight in water, dry skin doesn't stand a chance.
Hello plumping, firming, and lifting.
Dr. Chasan formulated
HydraGlo with a patented form of Hyaluronic Acid, specifically designed to pass through your stomach and intestine smoothly, so it can make its way to your skin with ease.
Each HA molecule is "wrapped" in a liposomal layer. That way, it can make it through your stomach's acid without breaking down.
(Yes, there are a few other hyaluronic acid supplements. But your stomach acid will destroy them before they can make it out to your bloodstream and get delivered to your skin and joints).
We know that when taking a new supplement you want to see results as fast as possible. So we added a couple more ingredients to maximize the potency of every capsule:
Methylsulfonylmethane (MSM)
MSM is an organic sulfur compound found in tomatoes and kale. It's a key building block for collagen, keratin and HA - nutrients all essential for a strong skin barrier and firm, youthful looking skin.
In fact, studies show that MSM helps to lock in moisture and nutrients like a security guard. The result is a reduction in the appearance of fine lines and wrinkles, while an improvement in skin tone, smoothness, and elasticity.
What also makes MSM special is that it's a powerful antioxidant. It helps to keep inflammatory fires under control, keeping your joints cool, loose and flexible.
Immuno Lp20
This powerhouse probiotic is classified as an "immunobiotic". This means it helps promote the production of immune cells.
These immune cells then act like teams of rescue workers, searching for damage to repair. This includes repairing the skin barrier, and promoting the production of hydrating, lubricating HA.
The benefits of Immuno Lp20 are proven in studies too.
In a Japanese study 80 people were given Immuno Lp20 for 12 weeks. The result? Their skin retained more moisture while they enjoyed a marked improvement in skin quality.
So you see, with the addition of these two super hero ingredients…
HydraGlo is the world's most potent supplement for your HA levels, joints and youthful glow.
Simply take 1-2 HydraGlo capsules a day and you're set. Nothing could be simpler.
You can take them when you get up in the morning, before the stress of the day takes its toll on your fine lines, your forehead, and your crow's feet.
Or take them as you're going to bed, filling your dermis with all the HA it needs to soak up the next day's ambient moisture.
HydraGlo And CeraLift Go Hand-in-Hand...
If CeraLift is like fertilizer for your garden, HydraGlo is the water.
You need both to get that beautiful, glowing skin you desire and deserve.
And we believe that HydraGlo is the only Hyaluronic Acid supplement worth taking, because of the patented liposomal technology we've sourced.
Unfortunately, that means it's more expensive to produce.
Guaranteed Lowest Pricing
At Del Mar Laboratories, we made the business decision to use clinical-grade ingredients, and sell them at below-retail prices. You may find our products sold for a markup in clinics and spas, but won't find them in stores.
And while we don't make as much money per order as other premium skincare brands, there's only one thing that matters to us:
Customers who love our products so much that they're loyal for a lifetime.
So we've priced HydraGlo far below what we could and should charge – a 30% discount, or more.
Click Here To Choose Your HydraGlo Package Now
You're encouraged stock up with the 3-bottle or 6-bottle option. Not only will we cover the shipping, but you'll be protected from stock-outs (and yes, we always stockout at certain times of year, especially in cooler months when the humidity plummets).
HydraGlo Is Covered By Our 90-Day, 100% Money-Back Guarantee
If for some reason you don't absolutely love HydraGlo, that's ok.
We only want raving customers.
And we know you too, will be DELIGHTED when you experience what HydraGlo does for your skin.
That's why we're confident giving you a full 90-Days to try it and see how it works for you.
(and that's yet another reason to take 3 or 6 bottles – you're protected no matter which option you order)
Sure, some people who will use it and ask for their money back no matter what.
But we believe most people are honest and just want to live their days, free from accelerated skin problems.
Just drop us a line for a full, no-questions-asked refund.
So Take A Skin-Rejuvenating Stand Right Now...
Despite the best efforts of the mainstream multi-billion dollar beauty industry, it's very hard to 'fix' your hyaluronic acid levels from the outside.
Right now, there's a good chance that your body's hyaluronic acid levels are in deep decline… and they are being eroded each day by youth-sapping free radical molecules.
Result? Dry, rough, aging skin.
There is no reason for any of us to put up with this.
Feed beautiful, moist skin from the inside… just one to two capsules a day are all it takes to fortify your skin's defenses against aging.
You can choose not to succumb the ravages of aging and instead give your body the tall glass of water it desperately needs.
Click Here To Choose Your HydraGlo Package Now
What Do Customers Think of HydraGlo?
References
(1) Papakonstantinou, E., Roth, M. and Karakiulakis, G. 'Hyaluronic acid: A key molecule in skin aging' in Dermato-endocrinology 4.3 (201) pp. 253-258. https://www.ncbi.nlm.nih.gov/pmc/articles/PMC3583886/
The Del Mar Laboratories 90-Day Guarantee
Try HydraGlo for a month. Or save by subscribing, or ordering 3-month or 6-month packages. No matter what you choose, you're protected by our no-hassle, guarantee: love what HydraGlo does for your skin, or your money back.
100% No BS, 90-Day Guarantee
Subscribers save 10% on every bottle
Free shipping on every order!