Total Neck Cream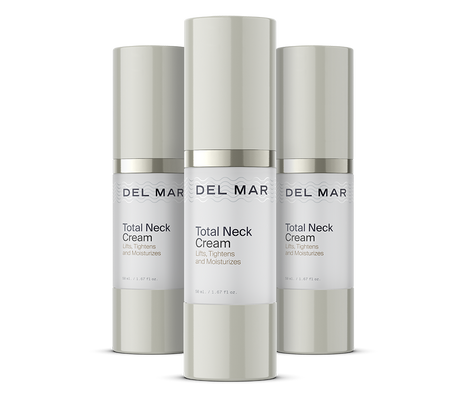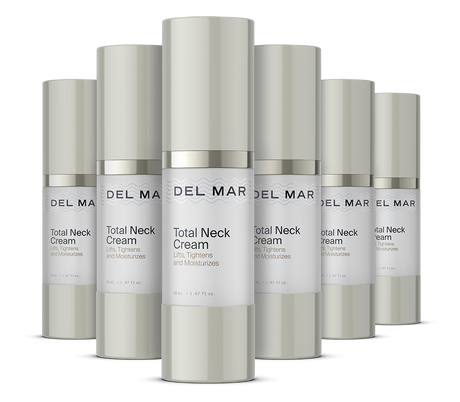 ---
---
A holistic approach for youthful, show-off skin along your neck and chest:
Lift & Tighten The Appearance of Sagging, Crepey Skin
Support Skin Elasticity Along The Neck, Décolleté, and Jowls
Dramatically Hydrate and Moisturize Rough Looking Skin
100% No BS, 90-Day Guarantee
Subscribers save 10% on every bottle
Free shipping on every order!
"I'm 48 years young but it felt like my neck aged me 10 years! So I tried this and absolutely love it. It's been a month and my neck feels and looks firmer!" — Susanne R.
* individual results will vary.
1-Year Money-Back Purchase Protection
What Does The Skin On Your Neck & Chest Say About You?
This one spot on your body can make you look older than you feel…
Or it can keep people guessing about your "true" age…
So, why not keep them guessing?
In just a few seconds you can enjoy…
Instantly lifted, firm-looking jowls…
A sculpted, tighter-looking neck…
Smoother skin in the upper chest…
You'll have fun seeing yourself in the mirror…
Look as young and energetic as you feel inside…
Pull out your cute, low-cut shirts and blouses from the back of the closet…
And walk out the door radiating with confidence.
All because of this innovative, holistic approach to younger looking skin.
"I've only been using this for a few days and I love how it feels on my neck! My skin feels silky soft and I'm starting to see a difference!" — Amiee M.
* individual results will vary.
The Root Cause Of Sagging, Crepey Skin In The Jowls, Neck, & Chest
There are three layers to your skin…
The dermis (the springy top layer)...
The epidermis (the supportive bottom layer)...
And the dermal-epidermal junction (the tightening middle layer).
If you want to maintain gorgeous, youthful-looking skin…
Then you need to nourish and strengthen all three layers.
This is especially true of the skin on your neck and jowls.
These two spots are always getting tugged on by gravity…
Plus…
You constantly move your neck as you go about your day…
… looking down at your phone
… checking blindspots while driving
… nodding up and down during conversation
… and so much more
The result?
Lots of tug and pull along your neck and jowls…
Which accelerates the breakdown of all three layers of your skin…
Making those areas more susceptible to wrinkles and sag spots.
However…
There is a way to strengthen and support all three layers of your skin…
Seemingly reverse the impact of gravity and daily movement…
And maintain a youthful-looking neck, upper chest, and jowls at any age.
"I've tried a lot of different products but none have worked quite like this one. I've used this for 4-months (which is a long time for me!) and it's been great at keeping my neck firm and sag-free." — Debbie S.
* individual results will vary.
Beat Gravity & Knock 10-15 Years Off Your Look!
To do so takes a holistic approach…
A team of ingredients that you can feel good about putting on your skin…
That melt deep into the skin to give it a firmer, smoother, and more sculpted look from the dermis up…
… While also working from the top, down…
To instantly smooth, moisturize, and tighten the look of those lines and wrinkles…
Restore your confidence…
And liberate the feminine power and beauty every woman should have!
"I couldn't wear low cut dresses without feeling 'older' due to wrinkles on my neck and chest area. So I started using this and I wore a low cut dress for the first time in months last night (date with my hubby). This has made a huge difference. My neck looks smoother and I feel confident." — Ann R.
* individual results will vary.
Total Neck Cream: A Holistic Approach For Firm, Youthful Skin
Our Total Neck Cream is for any woman who is ready to say goodbye to saggy jowls, turkey neck, and a wrinkled-looking upper chest!
It's a rich, nourishing cream that melts right into your skin…
And delivers a visible smoothing effect in just five minutes…
Reversing the look of sagging jowls and crepey neck skin quickly…
And the effect gets firmer and more sculpted with every use.
Here are the ingredients that make Total Neck Cream your complete topical solution for a younger looking neck and chest - and brand new confidence in your appearance!
* Matrixyl 3000: Firm & Tighten Your Skin
In order for amino acids to support the weakened collagen in your neck and chest… they need to be "directed" to those worn down areas.
That requires the assistance of a peptide called "matrikine" - which is a main component of Matrixyl 3000.
By applying it to your neck and chest, Matrixyl 3000 attracts skin-building proteins to weakened dermal tissue - where it can support underlying collagen for a firmer and smoother look.
Matrixyl 3000 also boosts elastin - the protein that gives your skin its "snap" and "tightness".
Studies found Matrixyl 3000 led to an 8.6% thicker, plumper skin appearance, 16% less roughness, and the appearance of wrinkle depth dropped 68%.
* Fision Instant Lift: Moisturize Skin & "Fill In" Wrinkles
This ingredient is made from a little protein extracted from plants. The instant you apply it, the top layer of your skin (the epidermis) responds by starting to smooth out.
Fission Instant Lift has a deep hydrating effect, especially in the chest and neck - helping to soften and fill in deep wrinkles… and erase the look of lines and patterns.
* NaturePep Teff: Reverse Sagging Jowls & "Turkey Neck"
This is especially made for crepey skin in the neck and jowls. It supports three "youthful" genes that help strengthen the dermal-epidermal junction.
The dermal-epidermal junction is the connective tissue that pulls your dermis and epidermis together - giving you tighter, smoother looking skin…
While also helping to erase the "turkey neck" look.
How do you use it?
Just rub-in our Total Neck Cream for 30 seconds and let these exciting, innovative ingredients perform an almost disappearing act on wrinkles and sag spots!
Many women use it two or three times a day. In the morning, before bed, and once before big outings with friends or time with family (and even before video work meetings).
1-Year Money-Back Purchase Protection
"I'm seeing quite a difference in my décolletage and neck. My neck feels moisturized, smooth, and youthful. I can't wait to see more amazing results!" — Leah G.
* individual results will vary.
How We Protect Our Customers
When you place an order directly from Del Mar Laboratories, you're in good hands.
Whether you buy one bottle, six or twelve, every order comes with one year of purchase protection. If you don't feel the difference, just return your empty bottles for a full refund of your purchase price.
And yes - we make it easy, and hassle-free. We have a 24/7 Customer Happiness department, with 100% native-english speakers. You can connect with them on a phone call, over email, or through live chat.
All orders are sent encrypted, and credit card numbers are always stored encrypted - using the same level of encryption as companies like Apple and Amazon.
We're here to be your partner in health, for years to come.
1-Year Money-Back Purchase Protection
"I'm 34 and I have slightly saggy skin. After trying different, much more expensive products, I've found this neck firming cream is the best! The results after 2 weeks of religious application are WOW!" — Sarah H.
* individual results will vary.
What do customers
think of Total Neck Cream?
Customer Reviews
Write a Review
Ask a Question
07/25/2023
Valerie M.

United States
Happy with the results
I have been using the Total Neck Cream for a few months now and can say that it really does help with firming up the neck in a good way. I can definitely see a difference! Would recommend.
Every individual is unique. As such, your results can and will vary. These statements have not been evaluated by the Food and Drug Administration. This product is not intended to diagnose, treat, cure or prevent any disease or illness.
Frequently Asked Questions
What is Total Neck Cream and how does it work?
It's an innovative, holistic, daily, instant fix for the appearance of sagging, crepey skin in the jowls, the neck and the chest.
We created it to reverse the signs of transdermal breakdown - which is the underlying cause of saggy and wrinkled skin in those areas.
Who is this designed for?
It's for any woman who wants a smoother, more sculpted looking neck and chest area.
Women as young as their twenties are using it for preventative care, because this is one of the first areas to get affected by transdermal breakdown.
It's very popular with women in their forties, fifties and sixties, because that's when the sagging really starts to appear.
And we have women in their eighties and nineties using it, wearing tops they'd thought they'd never wear again.
What is transdermal breakdown?
It's a natural change that affects all the layers of your skin - the top epidermal layer, the bottom dermal layer, and the connecting dermal-epidermal junction.
Each of these gets weak for different reasons, and it becomes especially visible in your neck, because of how much sun exposure, movement, and gravity your neck deals with.
The Total Neck Cream was designed to reverse all the signs of transdermal breakdown, from the deep dermal layer, all the way to the top.
What makes Total Neck Cream different from other creams on the market?
Most of them only temporarily address issues with the top epidermal layer of the skin, but fail to support the bottom dermal layer and / or the connection dermal-epidermal junction.
There was a deep need in the market for a solution that supported all three layers for tight, springy, youthful-looking skin - and we decided to fill that need with a holistic, all-in-one cream.
How exactly can the Total Neck Cream help my skin?
It starts with Matrixyl 3000 - that helps tighten up the appearance of wrinkles and sagging. It's a long term approach to a sculpted, tighter neckline.
Then there's NaturePep Teff - which targets crepey, turkey-neck skin.
And finally, there's Fision Instant Lift - to quickly smooth and fill in the look of the deep lines.
How do I use the Total Neck Cream?
Just pump it from the airless container, and spread it on your jawline, your neck, and your decolletage.
It melts quickly into the skin, so we suggest using it as a first layer, beneath any moisturizers, sunscreen, and certainly below foundation…
That way, it can penetrate as quick and deep as possible.
For best results, use it twice per day - once in the morning, and once at night. Many women use it three or four times a day, for an instant, tightening boost.
Will this irritate my skin?
Every compound in the Total Neck Cream has been shown to be safe and effective on the skin. Thousands of women are now using this formula without irritation.
How quickly will I receive my order?
Most orders in the continental US arrive in 2-3 business days, after the order is placed, via USPS first class mail. There are occasional USPS delays, especially around holidays - those are out of our control, but we will always notify you during these times.
How does the refund policy work?
Simply give us a call at 1-888-361-8645 or email us at mail@delmarlaboratories.com for return instructions. You'll work with a courteous Customer Happiness team member, and there will be no hassle or stress in requesting a refund. You can also use our self-service portal if you don't feel like talking to anyone. Once we have received your completed return form with your valid return tracking number, we will issue your refund. If you do not reply, we will refund once our warehouse has recorded your return. Please note, the warehouse can take up to 2 weeks for this process.
The Del Mar Laboratories 90-Day Guarantee
Try Total Neck Cream for a month. Or save by subscribing, or ordering 3-month or 6-month packages. No matter what you choose, you're protected by our no-hassle, guarantee: love what Total Neck Cream does for your skin, or your money back.
100% No BS, 90-Day Guarantee
Subscribers save 10% on every bottle
Free shipping on every order!