DetoxiDerm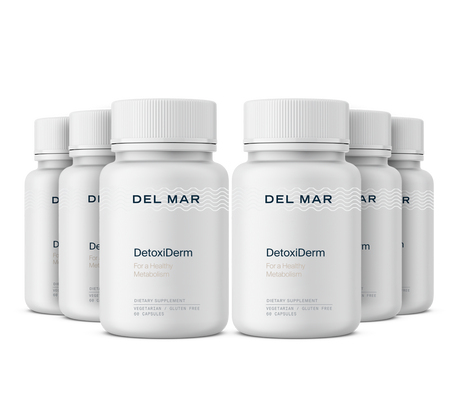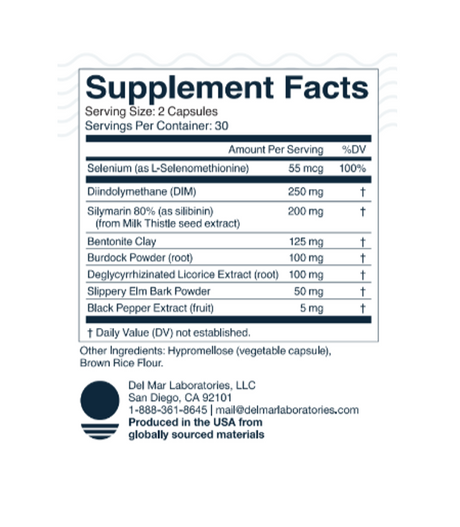 "I'm weighing in lighter and my skin is brighter."
— Barbara, Verified DetoxiDerm Customer
---
---
10 seconds a day to detox your skin from within! DetoxiDerm is an ultra-potent "power wash" to help your body remove the toxins you eat, breath and drink - before they can destroy your skin and sabotage your waistline. This triple-action formula is the detox your skin is craving!
Phase 1 Detox: clean your body's "master filter"
Phase 2 Detox: eliminate toxins from the body
Antioxidant Complex: defend against new toxin exposure
100% No BS, 90-Day Guarantee
Subscribers save 10% on every bottle
Free shipping on every order!
Dr. Chasan, on DetoxiDerm:
Everyone is worried about their collagen and elastin, but far too many women overlook the toxins that are destroying their skin from within. If the body isn't able to detoxify through proper elimination paths, then those toxins head straight for the skin, since it's the body's biggest porous organ. For skin health, weight control, and overall well-being, DetoxiDerm provides complete detox support.
- Dr. Paul Chasan
What do customers
think of DetoxiDerm?
Customer Reviews
Write a Review
Ask a Question
02/17/2022
Corinna T.

United States
08/25/2021
Judith C.

United States
05/12/2021
Gloria D.

United States
05/06/2021
Sabina S.

United States
06/25/2022
candace G.

United States
Great product
Wonderful experience..I have noticed a big difference in my health
03/30/2022
Lucy H.

United States
Still trying
So far so good- haven't used 30 days, but working ok so far.
Every individual is unique. As such, your results can and will vary. These statements have not been evaluated by the Food and Drug Administration. This product is not intended to diagnose, treat, cure or prevent any disease or illness.
Frequently Asked Questions
How Do I Take DetoxiDerm?
A standard serving of DetoxiDerm is two capsules daily. For faster, more spectacular results, you're welcome to take two, or even three servings per day.
How Quickly Will I Receive My Order?
DetoxiDerm orders are packed every afternoon, M-F, at our clean Utah warehouse, and sent out via USPS Priority Mail the following day. Depending on how far you live from Salt Lake City, you can expect your shipment to arrive within 2-4 days after it has been sent. If you have any questions or concerns about your shipment, we urge you to contact us so we can make sure it gets to you.
How Does The Refund Policy Work?
Simply give us a call at 1-888-361-8645 or email us at mail@delmarlaboratories.com for return instructions. Once we have received your completed return form with your valid return tracking number, we will issue your refund. If you do not reply, we will refund once our warehouse has recorded your return. Please note, the warehouse can take up to 2 weeks for this process.
The Del Mar Laboratories 90-Day Guarantee
Try DetoxiDerm for a month. Or save by subscribing, or ordering 3-month or 6-month packages. No matter what you choose, you're protected by our no-hassle, guarantee: love what DetoxiDerm does for your skin, or your money back.
100% No BS, 90-Day Guarantee
Subscribers save 10% on every bottle
Free shipping on every order!