Eye Joy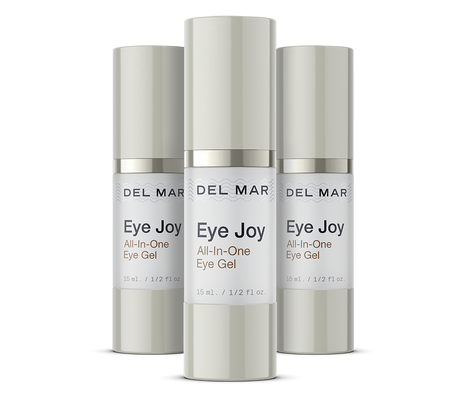 "This might be my favorite product you sell, I love how fast it works!!"
— Christie, Verified Customer
---
---
How to look younger, whenever you want? Just a few drops of EyeJoy…
Instantly smooth out the look of fine lines
Tighten the state of drooping eyelids and eyebags
Relive that puffy, "I just cried for an hour" look
Brighten up the appearance of fluids and dark circles
100% No BS, 90-Day Guarantee
Subscribers save 10% on every bottle
Free shipping on every order!
How To Look Younger, Whenever You Want
Eye Joy is an instant-effect eye serum… it goes on light, melts in quick, and takes up to five years off your face, in just five minutes! You'll get that tight, bright, "just left the spa" look every time you use it.
And the more you use it, the better results you can expect. That's because Eye Joy includes even more ingredients to penetrate deep, targeting the root causes of aging eyes.
A Holistic Approach To Aging Eyes
What's the first thing you notice about someone else? In a recent survey of 2000 people, 69% of respondents said it was the eyes! And when it comes to those signs of aging, here's what jumps out…
Fine Lines & Crow's Feet: Also known as "dynamic wrinkles," these are caused by repeated muscle contractions, which pull your skin into muscular grooves around your eyes and lips.
Sagging Eyebags / Drooping Eyelids: Also known as "static wrinkles," these are formed by years of gravity's pull, especially as our collagen-elastin matrix weakens. With some of the weakest skin on our body, eyes are especially susceptible to these effects.
Puffy Bags: Typically caused by poor circulation in the under-eye area, causing fluids to drain out of capillaries and "pool" in our bags.
Dark Circles: Poor circulation is one culprit, but another often-overlooked cause is sun damage! Over the years, melanin clusters can form in those little pockets under our eyes, leading to uneven, dark tones.
It's four little problems, wrapped into one big, immediately obvious visual flaw. So when it came to formulating Eye Joy, only a comprehensive approach would do.
Dollops of Joy, In One Silky Serum
Every time you use Eye Joy, you'll be getting the benefits of four potent little compounds for tighter, brighter, healthier-looking eyes:
Matrixyl 3000: a long-term approach to fine lines and sagging. One study showed that this peptide led to 8.6% thicker skin, 16% less roughness, and 68% less wrinkle depth!
EyeLiss: the "fluid flusher" for improving circulation in the under-eye region, this compound can help reverse the the look of those puffy, dark bags
Haloxyl: the "dark circle destroyer," Haloxyl helps smooth out the state of dark, uneven or dull skin, leaving it clearer and brighter.
How Much To Use & When To Use It
Use Eye Joy at least twice a day, morning and night, for best results. Many customers keep a few vials in their medicine cabinet, and another in their purse or their drawer at work for that instant, youth-boosting touch up. It's fun, it's powerful, and results can get even better over time, so stock up and take advantage of savings on our bigger packages.
The Del Mar Laboratories 90-Day Guarantee
Try Eye Joy for a month. Or save by subscribing, or ordering 3-month or 6-month packages. No matter what you choose, you're protected by our no-hassle, guarantee: love what Eye Joy does for your skin, or your money back.
100% No BS, 90-Day Guarantee
Subscribers save 10% on every bottle
Free shipping on every order!