CeraLift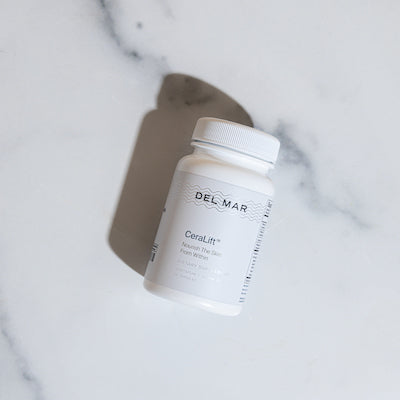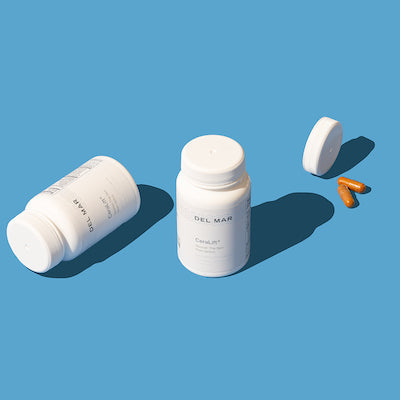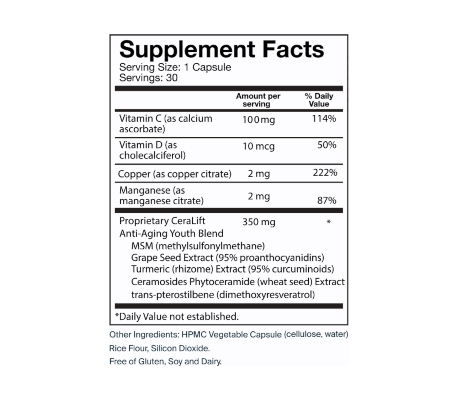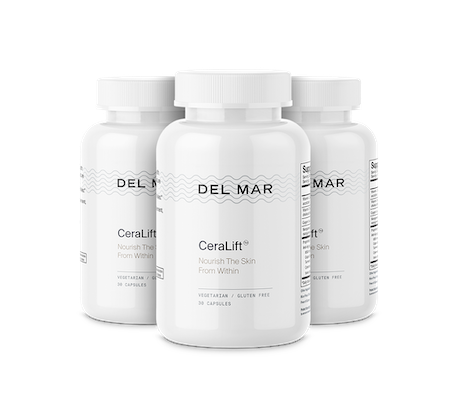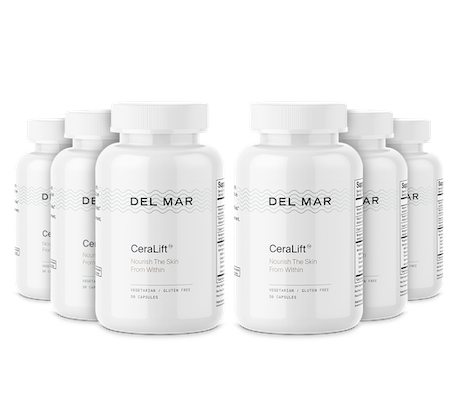 "I Haven't Used A Moisturizer In Two Months… And My Skin Looks Better Than It Has In Years"
— Patricia, Verified CeraLift Customer
---
---
Nourish the skin from within, and feed it the nutrients it needs to stay firm, moist, and radiant. Created by a plastic surgeon, with ingredients that have been the subject of dozens of clinical trials, CeraLift improves skin quality like no topical ever could.
Reduces The Appearance Of Wrinkles: Up to 37%
Increases Skin Elasticity: Up To 36%
Decreases Skin Roughness: Up to 64%
100% No BS, 90-Day Guarantee
Subscribers save 10% on every bottle
Free shipping on every order!
Dr. Chasan, on CeraLift:
I'm so excited that to be sharing CeraLift with fellow Americans who can't visit me at the Ranch & Coast Plastic Surgery Clinic. In all of my years of making people look and feel more beautiful, there is quite literally nothing else I've seen that firms, tightens, and moisturizes like CeraLift. It's replaced hundreds of dollars worth of topicals for my patients, and it's made their skin look better than it has in years. I hope you'll give CeraLift a try, and I hope to hear about (and maybe even see) the stunning change you're about to experience!
- Dr. Paul Chasan
Designed To Defeat Dermal Collapse
Healthy new skin is created from within – from nutrients in the blood stream all the way up to the epidermis. In youth, these nutrients are abundant, and the skin is undamaged by sun exposure and environmental toxins. But as we age, things change.
With age, our bodies produce fewer and fewer of these vital skin nutrients, causing the epidermis to weaken and fold in on itself. Making things worse, decades of damage by free radicals begin to eat away at the collagen and elastin in the dermis, causing deep wrinkles to form.
This is the condition known as Dermal Collapse, and topicals can't penetrate the skin deep enough to fix it. That's why Dr. Paul Chasan set out to solve this problem over a decade ago.
Rejuvenate The Skin From Within, With CeraLift
Drawing on his twenty five years of experience as one of California's top plastic surgeons, Dr. Chasan meticulously selected and tested the ten ingredients that are now in his proprietary Ceralift Formula.
Patented Ceramosides are the foundation of the formula. Extracted from non-GMO plants, these little miracle molecules replenish the "glue" that holds the epidermis together, so skin becomes tighter, firmer, and better capable of holding onto moisture.
Not only that, but Ceramosides stimulate the body to produce a protein called TIMP-1, which fortifies and protects the collagen in the dermis, for plumper, fuller skin.
Then Dr. Chasan added nine additional ingredients that have been clinically proven to halt, and repair, the dermal damage caused by free radicals. That means fewer spots, more glow, and more radiance.
Clinically Proven To Create Healthy New Skin (And Lots Of Confidence and Joy, Too)
CeraLift begins to deliver visible results in just two weeks. And in a 60-Day clinical study, 100% of participants experienced…
A reduction in the appearance of wrinkles (up to 37% less!)
An increase in skin moisture (an average of 37% more!)
A decrease in skin roughness (an average of 64% less!)
An increase in skin elasticity (an average of 36% more!)
A reduction in the appearance of wrinkles (up to 37% less!)
An increase in skin moisture (an average of 37% more!)
A decrease in skin roughness (an average of 64% less!)
An increase in skin elasticity (an average of 36% more!)
Yes, every single participant. For someone who's fifty five, that'd be like walking up to a mirror, and seeing a reflection of their twenty-year-old self, staring back in awe. That's why so many of Dr. Chasan's patients have said it's the best thing they've ever done for their skin.
What do customers
think of CeraLift?
After a year of in-clinic trials, Dr. Chasan released CeraLift to the general public in October 2019.
Here are just a few of the early reviews...
Every individual is unique. As such, your results can and will vary. These statements have not been evaluated by the Food and Drug Administration. This product is not intended to diagnose, treat, cure or prevent any disease or illness.
The Del Mar Laboratories 90-Day Guarantee
Try CeraLift for a month. Or save by subscribing, or ordering 3-month or 6-month packages. No matter what you choose, you're protected by our no-hassle, guarantee: love what CeraLift does for your skin, or your money back.
Frequently Asked Questions
What Is The Full List of Ingredients? And Are There Any Allergens?
CeraLift contains clinical doses of the following: Ceramosides, MethylSulfonylMethane (MSM), Trans-Pterostilbene, Turmeric, Vitamin D, Vitamin C, Copper, Manganese, Silica.
Each ingredient is sourced from non-GMO plant extracts. CeraLift is free of any allergens, including gluten, dairy, soy, shellfish, and tree nuts.
How Does CeraLift Work, Exactly?
CeraLift's ten ingredients works together, to combat Dermal Collapse and restore youthful skin from within. The patented Ceramosides help replace your skin's natural "ceramide" glue – the fatty molecules that hold the epidermis together, and keep it firm and tight. Since your body produces fewer and fewer ceramides with every passing year, it's essential to replace them.
Several of CeraLift's other ingredients provide the skin additional nutrients that decline with age, like the sulfur in MSM, copper, manganese and silica. These are all building blocks for healthy collagen and elastin.
Finally, CeraLift includes a potent blend of antioxidants – Turmeric, Trans-Pterostilbene, Vitamin D, and Vitamin C – which protect and repair your dermis from the damage caused by free radicals. Since the skin's sweat glands are primary "exit points" for toxins in the body, it is especially susceptible to the oxidative damage that Ceralift protects against.
How Do I Take CeraLift?
It's just one small capsule per day, taken orally with water. You can take it with your first meal of the day, or leave it on your nightstand for just before bed. Whenever you take it, you'll know that you're "sending in the reinforcements" for your skin to grow and glow like it did in your youth.
Can CeraLift Help With Age Spots?
Yes! Many age spots are caused by shifting pigments, which are directly caused by Dermal Collapse. As skin becomes firmer, tighter and more moist with CeraLift, pigments resettle and age spots begin to fade. And the copper in Ceralift was specifically included because it is used for the production, and distribution, of melanin – the pigment that gives your skin color.
How Long Does It Take To See Results?
While many patients begin to see changes in just two weeks, the most visible results come after ninety days of continued use. Remember – Ceralift works by restarting and maintaining your skin's "cellular factory," so daily use is essential to see the biggest improvements. This is why Dr. Chasan recommends purchasing the 3-month or 6-month supply. Whatever you choose, you'll want to take your "before" photo the day Ceralift arrives, then take ongoing photos on Days 14, 30, 60 and 90 (and prepare to be amazed by what you see).
Can I Take More For Better Results?
Yes, you can. CeraLift is 100% safe to take in larger doses, and for patients and customer who really want to see big changes, Dr. Chasan recommends two pills a day – one in the morning, and one at night. If that interests you, then please consider the 6-bottle option – you'll save the most money, and you'll have three full, twice-a-day-dosed, risk-free months of CeraLift to try and be amazed by.
How Quickly Will I Receive My Order?
CeraLift orders are packed every afternoon, M-F, at our clean Utah warehouse, and sent out via USPS Priority Mail the following day. Depending on how far you live from Salt Lake City, you can expect your shipment to arrive within 2-4 days after it has been sent. If you have any questions or concerns about your shipment, we urge you to contact us so we can make sure it gets to you.
How Does The Refund Policy Work?
Simply give us a call at 1-888-361-8645 or email us at mail@delmarlaboratories.com for return instructions. Once we have received your completed return form with your valid return tracking number, we will issue your refund. If you do not reply, we will refund once our warehouse has recorded your return. Please note, the warehouse can take up to 2 weeks for this process.
It's Time To Start Nourishing Your Skin, From Within
Since CeraLift's launch, thousands of Americans have already begun to experience the joy of firmer, tighter, moister, more radiant skin. Some have said that CeraLift "is like fertilizer for the skin," because it provides clinical doses of the nutrients that skin needs to stay young and fresh. And now, finally available beyond the exclusive doors of Dr. Chasan's Del Mar clinic, you have the chance to experience CeraLift for yourself today.
100% No BS, 90-Day Guarantee
Subscribers save 10% on every bottle
Free shipping on every order!