OmegaShine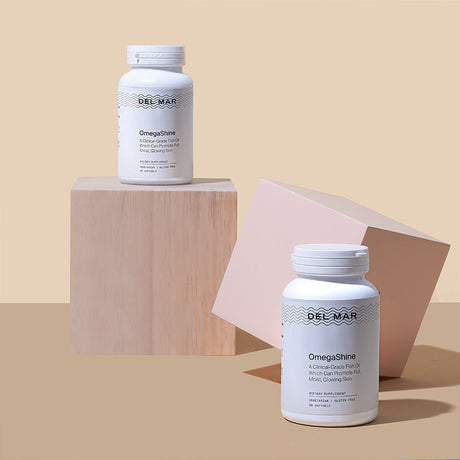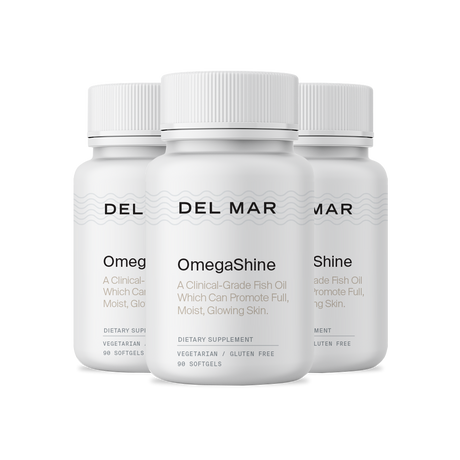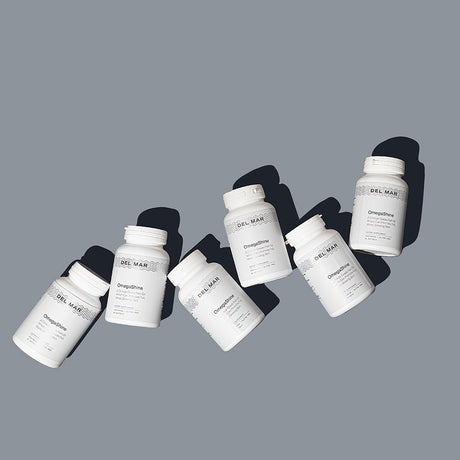 "OmegaShine....Wow!! My face has such a nice glow recently since using Omega Shine. I love it!!"
—
Karen F, Verified OmegaShine Customer
---
---
Rejuvenate, Repair, and Restore your skin's appearance with our clinical-grade fish oil. Bursting with 3x the dose of skin-nourishing EPA fatty acids, and zero fish taste!
Rejuvenate your Skin - Increase Hydration
Repair Years of Photoaging - Soften Creases, Fine Lines, & Wrinkles
Restore the Collagen Dermal Matrix - Make your Skin Firm & Smooth
100% No BS, 90-Day Guarantee
Subscribers save 10% on every bottle
Free shipping on every order!
Skin, Meet PhotoDamage
Chances are, you've spent many a summer day basking in the sun.
Whether lounging at the beach, enjoying time on the water at the lake, or spending time in the mountains, it felt so good at the time, didn't it?
But… who knew the sun could be so cruel?
The truth is exposure to the sun's UV rays age the skin prematurely. 1
It is called photoaging. It happens with repeated exposure to ultraviolet radiation (UV) from the sun. 2
Despite the incredible benefits of the sun's rays for health, stress reduction and the production of Vitamin D...
The downside of the sun's intense UV rays are: 345
Creases, Fine Lines and Wrinkles
Drooping skin (inelasticity)
Dark spots ("age spots")
Broken blood vessels (telangiectasias)
A yellowish tint to the skin
Leathery texture to the skin
Mottled pigmentation
Easy bruising
Just to be clear: It's the UV radiation... NOT sunlight itself... that's damaging your skin.
After years of UV ray damage, the skin can become leathery, wrinkled and saggy.
That's because with every year that passes, the deep wrinkling, loss of elasticity, altered pigmentation, and collagen destruction becomes more pronounced.
Omega-3 EPA: Where PhotoDamage Meets Its Match
Omega-3 Eicosapentaenoic acid (EPA) is a big word with even bigger skin care benefits.
New research has shown the best way that you can fight photoaging is from the inside out. 6 There are certain kinds of foods that are great at helping you minimize, and even reverse, photoaging. 7These foods include:
Certain kinds of algae...
Fatty fish including anchovies, salmon, herring, mackerel, tuna and halibut...
Farm fresh eggs... 8
All of these foods contain Omega-3 EPA, a magical "good-fat" for skin.
While there are other ways to insure the appropriate amount of EPA's in your diet, research has shown supplements are the best way to guarantee an appropriate daily dose of Omega-3s.
The recommended dose is 1.1 grams combined Omega-3 EPA and DHA each day for healthy women 9. However, not all Fish Oils are created equal!
Most Fish Oil manufacturers take shortcuts you should be aware of.
Many fish oil supplements contain harmful PCBs. PCBS are dangerous toxins found in seafood that comes from large fish.
Several Fish Oil products contain 20-30% less than the claimed amount of Omega-3s on the label. 10
Most Fish Oils you'll find are Ethyl-Ester, the cheap form of fish oil… It is easy to produce, but changes the chemical composition of the natural oils, making it less bioavailable (in other words, more difficult for your body to absorb) 11
The majority of Omega-3 supplements are woefully underdosed, so you'd need to take 9 or more pills a day to get your 1.1 grams of EPA and DHA!
Enter OmegaShine: Potent, Pristine Fish Oil
OmegaShine Fish Oil contains the purest, highest concentration EPA & DHA essential fatty acids on the market today.
No compromises... no shortcuts… no cutting corners.
Just 3 easy-to-swallow soft gels deliver a full 1.1 grams of Omega-3 EPA and DHA fatty acids.
Our promise to you:
Your skin will become plumper and softer as hydration returns 12
Stubborn creases will soften, wrinkles diminish and fine lines will soften and then disappear 13
Your glow-y look returns 14
Your cardiovascular health will improve 15
OmegaShine Fish Oil is considered clinical grade fish oil, without the prescription or the outrageously expensive price tag. And for your protection and satisfaction, every batch is 3rd-party tested for purity and potency.
Why We Believe OmegaShine Is The
Best Fish Oil In The World
The Most Absorbable. OmegaShine is molecularly structured as a triglyceride – offering up to 70% more bioavailability than cheap ester-ethyl fish oils.
The Right Dose. Get 800mg of pure EPA with just three small, easy-to swallow softgels. Check out other Omega-3 supplements and you will find a fraction of this dose.
No Fish Burps or Stomach Problems. Some people with sensitive digestive systems get an upset stomach with fish oil, or the fishy aftertaste.
So OmegaShine oil is encapsulated in a patented ClearEnteric soft gel. This gel helps the capsules bypass your stomach, and make it to the small intestine for easy digestion and absorption.
Purity and Environmentally Sound. OmegaShine fish oil comes from a clean renewable supply of Anchovies. Since they're low on the food chain, anchovies contain a mere fraction of the heavy metals and PCBs that you'll find in larger fish.
What Do Customers Think Of OmegaShine?
The Del Mar Laboratories 90-Day Guarantee
Try OmegaShine for a month. Or save by subscribing, or ordering 3-month or 6-month packages. No matter what you choose, you're protected by our no-hassle, guarantee: love what OmegaShine does for your skin, or your money back.
100% No BS, 90-Day Guarantee
Subscribers save 10% on every bottle
Free shipping on every order!